These are only a few of the BEST of the BEST!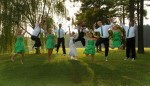 Knot Your Average Vendors
Book Knot Your Average Events as your Full Event Planner, Brunch Coordinator or Partial Planner/Coordinator and recieve a 100 page planning kit full of the BEST of the BEST local vendors ready to make your day memoriable and keep you under budget. But you must book us as a director, planner or coordinator to receive our FULL Vendor list.
Home Sweet Home
We've had the pleasure to meet lots of venue owners and there are several more we'd love to work with. However, here are a few that we feel like we are home away from home... Adaumont Farms, Aqueduct Event Center, Autumn Creek Vineyard, Barn at Valhalla, Barns at Summerfield, Burke Manor Inn, Captain White's House, Castle McCulloch, The Cetwick, Coleman Barn, Country Inn & Suites (Burlington), The Gardens at Gray Gables (beer & wine only), The Halls & Gardens at Landmark, The Hayloft, Hodgin Valley Farms, Holiday Inn by the Airport (Greensboro), JH Adams Inn, Lake Cammack, La'Brie at Linwood, Light Horse Plantation, The Lofts at Union Square, The Long House, Museum of Life & Science (Durham), Natural Science Center (Greensboro), The Penn House, The Proximity & O'Henry Hotels, Revolution Mills, Rigmor House, Starlight Meadows, Starmount Forest Country Club, Sunset Ridge Buffalo Farm, Timberlake Earth Sanctuary, Vailtree, Winmock. Plus there are sooooo many more we'd love to work at more often! FYI we are offering specials for these locations for our partial/limited planning packages. Ask us for details by mentioning home sweet home.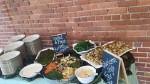 Catering
Please note unless you are hosting your reception in your home or at a church we required a licensed & insured professional catering company to provide any meals for your reception. We ask that they cook in a commercially graded kitchen for the safety of you and your guests. Also note most professional venues require this also or has a preferred catering list to choose from. (*even if you are hosting at home or church, we will still HIGHLY encourage you to use a professional catering company to allow you and your family to be guests)