These are only a few of the BEST of the BEST!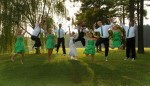 Knot Your Average Vendors
Book Knot Your Average Events as your Full Event Planner or Partial Planner/Coordinator and recieve a 125+ page planning kit full of the BEST of the BEST local vendors ready to make your day memoriable and keep you under budget. But you must book us as a planner or coordinator to receive our FULL Vendor list...or you can pay for our consultations ($85 per hour min 3 hours) and we will give you a list of vendors for you to research for your special day to fit your style, vision & budget.
Home Sweet Home
We've had the pleasure to meet lots of venue owners and there are several more we'd love to work with. However, here are a few that we feel like we are home away from home... 105 Worth Event Center, 12 West Main (High Point), 910 Mock Wedding & Event Venue, Adaumont Farms, Addison Farm, Atkinson Farm, Autumn Creek Vineyard, Barn at Blueberry Hill, Barns at Summerfield, Barn at Valhalla, Baynes Farm (Burlington), Barn at Woodlake Meadows, Bently Manor, Blandwood Carriage House, Bonamanzee, Brookstown Inn, Bryan Park Event Center, Burke Manor Inn & Pavilion, Captain White's House, Carriage House in Chapel Hill, Carriage Trail Farm, Carver on the Lake Venue, Cloth Mill, Coleman Barn, Cottontail Weddings & Events (VA), Country Inn & Suites (Burlington), Cypress Manor, Dewberry Farm, Diamond Room, Double Oaks B&B (Greensboro), Dream Makers Wedding (Emerald Isle), Elon Life Community Center, Faucette House (Elon), Forest Hall (Pittsboro), Friends Farm, Gardens at Gray Gables (beer & wine only), Grandover Resort & Spa, Halls & Gardens at Landmark, Het Landhuis Estate, Hodgin Valley Farms, Holt South, Holiday Inn by the Airport (Greensboro), Honeysuckle Tea House, JH Adams Inn, Lady Bird Farm (Rockwell), Lake Cammack, La'Brie at Linwood, Legacy Stables and Events, Light Horse Plantation, Lily Pad, Long Straw Farm (Ayden), Luna Trails, McAlister-Leftwich House, Mason Ridge (Alamance County), Medaloni Cellars, Merry Hill Farm (Alamance County), Modlin Farm, Moser Barn, Museum of Life & Science (Durham), Natural Science Center (Greensboro), Pandora's Manor B&B, Paul j. Ciener Botanical Garden, Penn House, Piedmont Renaissance Center, Proximity & O'Henry Hotels, Reverie Place, Revolution Mills, Rigmor House, Riverview Stables Rock Quarry Farms, Smith Hollow Farm, Snipes Farm, Stancil Farm, Starlight Meadow, Starmount Forest Country Club, Sunset Ridge Buffalo Farm, The Arbors Events, The Atrium (Wilmington), The Barn of Chapel Hill, The Barn Dinner Theatre, The Barn at Greensboro County Club, The Barn at Renolda Village, The Brownstone at Glencoe (Burlington), The Crest Center (The Pavilion) in Asheville, The Dairy Barn (SC), The Harvest House, The Hideaway at Crooked Creek, The Hotel Concord (Charlotte), The Hubbard House, The Hudson Manor, The Grooms Inn, The Laboratory (Charlotte), The Lodge on Hatley Farm (Albemarle), The Loft at 14th (Charlotte), The Lofts at Union Square, The Long House, The Meadows at Walnut Cove, The Providence Cotton Mill, The RiverRoom (Wilmington), The Roost at Butler Farm, The Sky Retreat, Timberlake Earth Sanctuary, Triple J Manor House, Tripp Farms, Tuscan Ridge Wedding Venue, Vailtree, Villa de' Lamour House of Love, Village Inn Event Center, Walnut Bed & Breakfast, Weir-Jordan House, Whitaker Farms, Willstella Farm, Winmock. Plus there are sooooo many more we'd love to work at more often! FYI we are offering specials for these locations for our partial/limited planning packages. Ask us for details by mentioning home sweet home.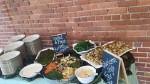 Catering
Please note unless you are hosting your reception in your home or at a church we required a licensed & insured professional catering company to provide any meals for your reception. We ask that they cook in a commercially graded kitchen for the safety of you and your guests. Also note most professional venues require this also or has a preferred catering list to choose from. (*even if you are hosting at home or church, we will still HIGHLY encourage you to use a professional catering company to allow you and your family to be guests)